Activation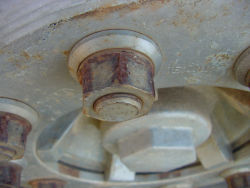 The treatment of metallic surfaces with solutions or compositons which, under appropriate conditions, will deposit or form upon the metallic surface a protective phosphate coating is practiced extensively. These phosphate coatings are desirable since they constitute excellent surfaces for the succesful succesful application of organic finishes. The phosphate coatings occur as crystalline deposits to which organic finishes will bond and adhere more tenaciously than to the bare metal surface. It has been discovered that the time necessary for the reaction between the metal surface and a composition capable of developing the phosphate coating thereon. Depends to a great extent upon the relative activity of the metal surface to the composition. When treated with an activating solution, the bare metal surface has imparted to it improved characteristics whereby it is activated so that the normal or modified phosphate coating compositions will form a phosphate film or coating thereon with great rapidity, for example, in a minute or less.
Another advantage obtained by the activation of metal surfaces is that metal surfaces which previously did not form satisfactory phophate coatings, successfully acquire phosphate good corrosion inhibiting coationgs upon activation. As is well known, zinc does not form good protetive phosphate coatings when coating compositions are applied, but with activation zinc will acquire coatings capable of meeting extreme corrosion requirements.
When metal surfaces are activated by a pretreatment, the surface may be subsequently treated with a phosphate coating composition to produce thereon a highly satisfactory and complete protective coating in a matter of one minute or less contact. Furthermore, it has been noted that such activated metal surface acquires a musch better protective phosphate coating than the same solution would produce on unactivated surfaces. The improved coatings are characterized by a finely crystalline layer whose individual grains cannot be distinguished with the naked eye. The corrosion resistance of the phosphate coatings as produced on activated surfaces is greatly superior t thaat secured on unactivated surfaces.
>> Click here for more information
2007 © surfacepretreatment.com
Powered by
CHEMICAL
COMPANY